Invisible sculpture #1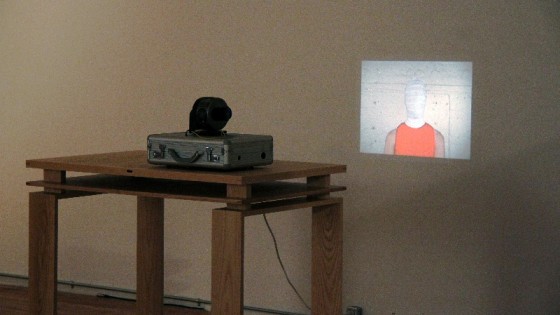 The notion of Being as full positivity does not contain Nothingness as one of its structures. We cannot even say that Being excludes it. Being lacks all relation with it. Hence the question which is put to us now with a particular urgency: if Nothingness can be conceived neither outside of Being, nor in terms of Being, where does Nothingness come from?
-Jean-Paul Sartre Being and Nothingness
Invisible sculpture #1 reflects upon questions of embodiment and the transitory nature of being. In this artwork the viewer's body controls the speed and direction of a short video sequence inspired by H.G. Wells' science fiction classic "The Invisible Man." The viewer's physical movements are mirrored back and contrasted to a video image of a mysterious figure whose unraveling bandages reveal an invisible subject. The video footage and accompanying sound track are slowed down, sped up, played in reverse and forward depending on the viewer's proximity to the screen.
Technical assistance and programming: Martin Peach and Jean-Ambroise Vesac.

The artist gratefully acknowledges Concordia University Part-time Faculty Association Professional Development for their support of this project.


___
© 2005 Loades