The Fun of It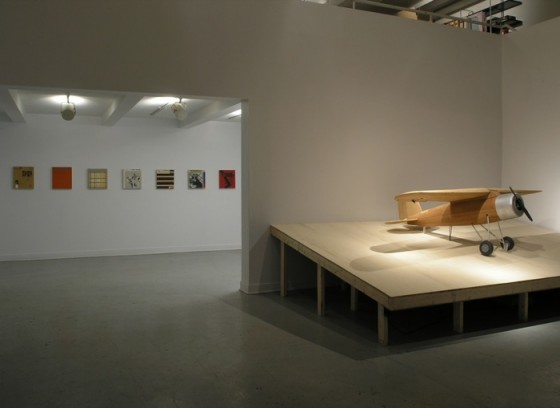 Photographs: Paul Litherland

The Fun of It continues a series of portraits of women that include The Diana Piano, a portrait of Vancouver artist Diana Kemble, Enseigner les sens du savoir (a video portrait of Simone Weil) and Sewing (d'après une oeuvre de Gabrielle Roy). Each of these projects focus on women who disrupt normative gender codes and have remained, for various reasons, ambiguous in terms of their sexual orientation. This project looks at Amelia Earhart not only as a pilot, but also as a media figure who consciously used her image to promote women's rights. The central element of the piece is a one-fifth-scale plywood replica of the Lockheed Vega, the plane Amelia Earhart used to complete her solo transatlantic flight in 1932. Pneumatic pistons built into the landing gear cause the plane to slowly rise, dip, bank, and tilt simulating the motion of a plane in flight.
Technical assistance and programming: Denis Labelle
The artist gratefully acknowledges the support of the Canada Council for the Arts and The Conseil des arts et des lettres du Quebec for their support of this project.
___
© 2000 Loades