Coincide(nce)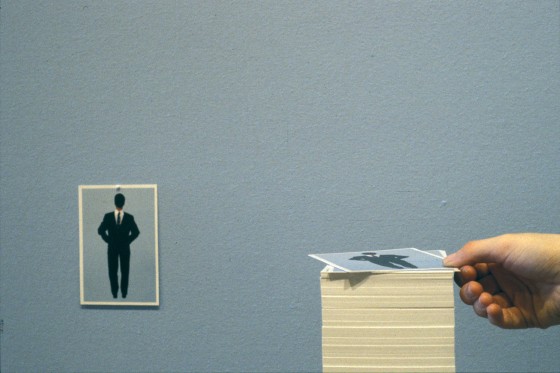 Photographs: Paul Litherland
A stack of postcards placed on a wooden pedestal.
The viewer is invited to take a card.
This piece came out of a project I did with first year Concordia University students. Each student was asked to make a sculpture for the body, which would then be photographed and compiled in a class bookwork. My intervention was simple. The idea came from a dream I had shortly after the premature death of my brother. In the dream I dreamt he wasn't dead at all, but simply had his suit on backwards.
Coincid(ence) was first exhibited at the Leonard and Bina Ellan Gallery in Montreal. The cards were placed on a wooden pedestal and viewers were invited to take one. During the course of the exhibition of stack of cards physically decreased and increased as the cards were taken and replenished, mirroring, in a very small way, the ebb and flow of life and loss.
materials: 4″x 6″ colour postcards
wooden pedestal,painted wall
___
© 1995 Loades