Composite Group Show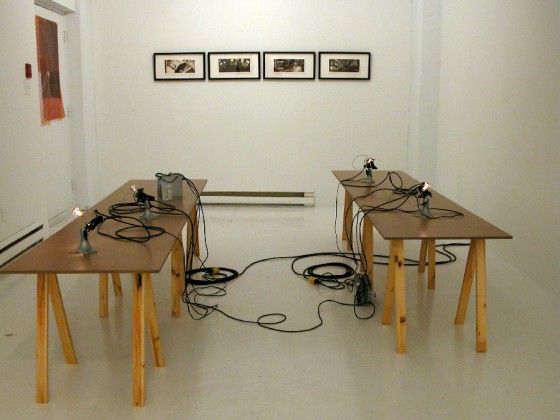 Composite Group Show is a group exhibition of six Montreal artists currently studying at Concordia University. Included in the exhibition is a diverse spectrum of works exploring new and evolving studio art practices. Video, electronic and digital art engage in a dialogue with photography, performance and sculpture. These works explore how the aesthetic investigations and routine activities that occur within the studio impact technology based art practices.
Included in this exhibition are electronic and video artworks by students from the graduate and undergraduate areas at Concordia University. Ian Campbell's "Geese" is a kinetic sculpture that explores the abject qualities of machines, creating a pseudo-natural soundscape. Geoffrey Jones' "piece mark_" uses electronics and computer programming as a way of visualizing inaccessible phenomena. Multi-media installation artist Tricia Middleton combines video, sculpture, painting, found objects, text and sound as a means to further investigate and re-work the haunting spectres of cultural icons and objects. Performance acts by Anna Spaque, which explore semiotics, language and gesture in order to discuss feminism and the body politic are presented through video documentation. Also included in the exhibition are digital photographic pieces by artists Noémie da Silva and Tatiana Parniakova. Da Silva plays with composite images in a web-based project entitled "seeMe" and digital montage in the photographic series "famille". Tatiana Parniakova challenges our understanding of traditional photography. Combining pinhole photography with digital outputs, Parniakova's "Pinhole Diary" creates a visual representation of memory by exploring the physical body and gesture in relation to time. Parniakova's "Natural History (Museums)" is a collection of panoramic photographs taken from inside a museum. Using the Museum of Natural History as a contextual framework for viewing, these works look at the historical perspectives of preservation in relation to notions of display within a visual arts tradition.
Curated by Lorraine Oades
Project Coordinators: Anna Spaque, Noémie da Silva
December 4 - 23, 2004
Centre d'art Amherst
1000 rue Amherst, local 104b-c

___
© 2004 Loades