Sewing (d'après une oeuvre de gabrielle Roy)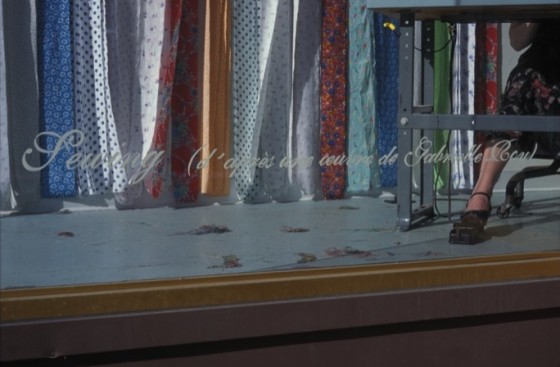 Working hours
Monday to Sunday 8:00 AM to 7:00 PM
4005, Notre Dame Ouest, Saint-Henri
Montréal is well known for its long history in the garment industry. For many years artists' spaces and clothing manufactures worked next to one another in numerous locations throughout the city. While analogies can be drawn between the type of labour employed by the garment industry and the nature of cultural production, by and large these activities have remained distinct. This project blurs the boundaries that conventionally distinguish an art practice from that which is generally regarded as menial labour by producing a performative artwork that brings together commonalities intrinsic to both.
Sewing (d'après une oeurve de Gabrielle Roy) project took place over a five-week period in a storefront located in Saint Henri, Montréal.
I worked with three other sewers to embroider sections of text from each chapter of Gabrielle Roy's novel "Bonheur d'occasion" onto 268 strips of fabric. An audio recording of the entire novel was played-back outside the storefront for the duration of the exhibition. In this work I re-address questions asked by Gabrielle Roy regarding class and gender inequities.
The artist gratefully acknowledges the support of the Canada Council for the Arts.
Photographs: Paul Litherland
___
© 1997 Loades