The Violin Lesson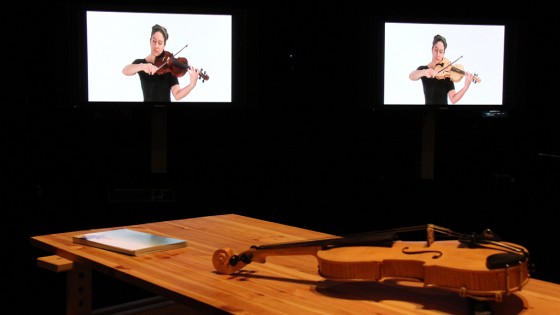 Lorraine Oades and Brigitte Dajczer with Patrice Coubombe
This project completes a long and circuitous journey that began many years ago with the desire to play a musical instrument. My instrument of choice was the violin, due in part to its economy of scale and its ability to stir sizable emotions. As there were few financial resources accessible to me at the time buying a violin was out of the question. I began this endeavor, therefore, by following what seemed the most obvious and direct route possible: by making a violin with a readily available and inexpensive material, plywood. The process of making the violin involved frequenting local violin shops, leafing through two-inch thick instruction manuals published in the late nineteenth century, and months and months of careful attention. To some extent the craft involved in making a violin reflects the kind of skill, dexterity and commitment needed to play one. It requires having an affinity and patience with materials, a love for the instrument, and perhaps a slightly obsessive personality. Yet, making the violin was only the first and possibly least difficult step in fulfilling my life-long aspiration. The second step involves inviting artist and professional violinist Brigitte Dajczer to teach me, and the gallery goer, how to play.
Programming: Patrice Coulombe
The artist would like to thank Concordia University Part-time Faculty Association Professional Development for their support of this project.
___
© 2015 Loades